A major hurdle in ecosystem research is the ability to combine field testing and laboratory data into one continuum of quality control and accountability. Field testing necessitates accurate record keeping while at the mercy of the environment in which it occurs, providing numerous challenges not experienced in controlled laboratory settings. While laboratories are infinitely important, no result is valid or scientifically meaningful if the sample or specimen is not collected and documented properly.
Until recently, many researchers operated with different software packages; one for fieldwork, and a LIMS or LIS within the laboratory walls. However, Clinisys has greatly expanded the capabilities of its field module, allowing all needed parameters, photographs, and data to be recorded succinctly and then swept from the field application into the laboratory information system when WiFi or direct download is available.
In terms of field data connecting directly to laboratory operations, the South Florida Water Management District's (SFWMD) analysis of periphyton serves as a prime example.
Periphyton Research Utilizing LIMS
Periphyton Overview
Within the Everglades restoration area, SFWMD performs ichthyology studies, sawgrass monitoring, nutrient (nitrogen and phosphorus) monitoring and studies, broad-based water quality testing, and monitors and conducts in situ and laboratory tests on periphyton. The combination of great researchers, an excellent laboratory, agile laboratory informatics, and a thoughtful monitoring program provide a benchmark for proper wetlands reconstruction projects.
Periphyton is a consortium of various algae, cyanobacteria, fungi, microbial heterotrophic communities, and detritus that adheres to open surfaces in aquatic environments such as the sediment, rocks, and parts of rooted plants. Periphyton serves as a food source for both invertebrates and small vertebrates such as minnows and tadpoles.
Periphyton is an important indicator of water quality, both in terms of chemical pollution and turbidity, as these can be measured both physiologically and through community-level changes. As such, periphyton is often studied in and around the Everglades in South Florida as a key indicator of water quality.
Periphyton in the Everglades area is considered calcareous due to limestone (calcium carbonate) sediments, in addition to often high dissolved calcium concentrations from input water sources typical in the surrounding areas. Physical and chemical interactions with the surrounding environment upon the periphyton may directly affect the ecosystem. This understanding of periphyton makes it an invaluable subject for a variety of studies including bioavailability, nutrient uptake, and pollution-induced tolerance.
In addition, trophic accumulation and mercury methylation by periphyton has been observed in the Everglades, potentially being an important link towards the bioaccumulation of mercury in higher organisms. In other studies, it has been shown that the nutrient load alters the microbial composition of periphyton mats, thereby altering not only their structure but their mercury-methylating activity.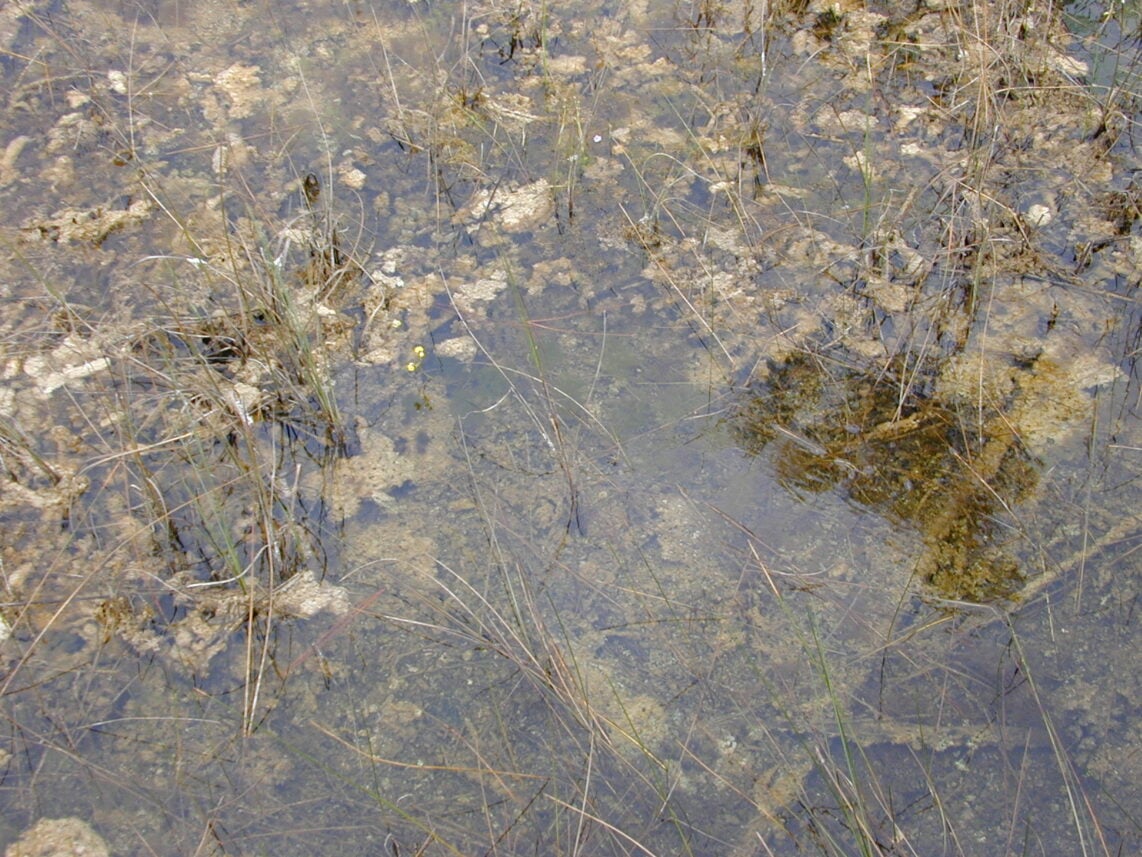 Periphyton Research
While complex as most in situ organismic studies are, much of the underlying analytical work is relatively simple, encompassing commonly run analyses such as total and dissolved phosphorus, nitrate and/or nitrite, total nitrogen (TN), pH, TSS and TDS, turbidity, and various metals analyses — with the exceptions being the study of organometallics and speciation analyzes. The inherent complexity comes often not from these individual tests but from the combination of multiple parameters being teased into complex ecosystem models. The implementation and use of laboratory informatics by the laboratory safeguards the quality of the generated data as well as allows for required ad hoc and final reporting.
Specific to ad hoc reporting, provisional data may be generated so as the next step in experimentation may be adjusted, as in the case of water quality constituent studies over multiple, timed incubation periods. This data allows for meaningful snapshots to be taken. Complex experimentation can proceed with limited reruns due to false impressions from visual data alone.
The advances in laboratory informatics now allow for full traceability from field-specific measurements, including GPS locations using field modules, allowing for seamless integration of environmental data. This extends the analytically valid data out of the scope of just the laboratory, providing researchers with a more holistic view.
By encompassing all the features of an advanced laboratory informatics solution, research projects no longer need to be completely broken between field and laboratory studies but can be monitored as a continuum across spectrums. A chief benefit: all data is administered in one system universally under a set of established quality control features, with the ability to query and report data by any delineating factors recorded.
Conclusions
Periphyton studies compose a crucial step in ensuring the health of many aquatic ecosystems and most certainly in South Florida. Periphyton's role in sequestering nutrients as well as being a clear indicator of ecosystem health cannot be overlooked and is gaining prominence in additional studies in wetlands around the world..
Given the diversity of complexity of periphyton and periphyton studies due to the copious amounts of raw data and laboratory-generated data, the use of laboratory informatics is critical in ensuring the accuracy of the data produced. Any analytical errors not corrected and accounted for in ecosystem studies may lead to erroneous modeling issues when extrapolated.
Utilizing a LIMS or laboratory informatics solution, such as the Clinisys Laboratory Platform (CLP), enables maximized laboratory efficiencies while ensuring unbiased, proper quality control is applied to all supporting data generated. LIMS facilitates timely and accurate reporting; allowing scientists to properly coalesce quality data into meaningful models both during and at the completion of the studies.
The Future of LIMS
LIMS have evolved from simple, controlled spreadsheets to holistic, traceable, and secure laboratory informatics systems capable of now extending to the field featuring ever-increasing AI and machine learning capabilities. CLP is setting new standards for inclusive and scientifically valid field data to complement laboratory generated data, providing a new benchmark for holistic analytical data collection.
Sources
Gaiser, E. Periphyton as an indicator of restoration in the Everglades. Ecological Indicators. Volume 9, Issue 6, Supplement 1. Amsterdam, Netherlands: Elsevier Publisher. 2008.
L.B. Cleckner, C.C. Gilmour, J.P. Hurley, D. P. Krabbenhoft. Mercury methylation in periphyton of the Florida Everglades. Limnology and Oceanography. 1999
Carrell, Alyssa A., et al., Frontiers Microbiology, Sec. Microbiological Chemistry and Geomicrobiology. March 19, 2021