Clinisys | MIPS is pleased to announce the launch of GLIMS 10, which delivers new technologies and capabilities that improve the user experience, security and interoperability. The new GLIMS high-performance Laboratory Information system supports the laboratory's growth, with more flexibility to organise and automate processes. The enhanced efficiency enables users to keep their focus firmly on improving patient care.
GLIMS 10 builds on the huge usability and adaptability improvements of GLIMS 9, to meet the modern needs of the laboratory, today and in the future.
What's new or improved in GLIMS 10?
GLIMS 10 offers richer functionality for specialties, such as:
Microbiology: automated tasks and plate reading enable an efficient digital and paperless workflow that optimizes the microbiologist's time and efforts, and reduces risk of human error. GLIMS 10 also interfaces with different microbiology laboratory automation systems, to enhance productivity.
Biochemistry: by supporting specimen pooling, for example for COVID-19 PCR testing, multiple subjects can be combined in one single test, substantially improving testing efficiency and turnaround time.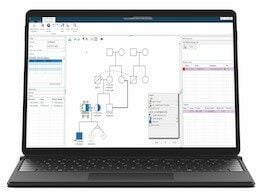 Genetics: our new GLIMS Genetics module delivers a complete and tailored genetics workflow, for small, large or multi-site laboratories. It enables family management, supports automated decision making, and delivers patient management and appointment tools.
New and enhanced opportunities for every laboratory include:
Non-conformities registration: quality management is enhanced, with better identification and control of non-conformities, in line with ISO 15189 requirements.
Business Activity Monitor (BAM): business activities, such as orders, results, actions, KPIs and more, can be monitored centrally with the interactive dashboard, all on a single screen.
Consult registration: this brand-new module structures the registration of consultations between referrers and lab specialists. You can streamline and document consult discussions to improve the quality of your consultative service and ensure guidelines are met.
Enhanced data privacy and security: transparent data encryption (TDE), LDAP authentication, and MIPS's own ISO 27001 certification give you greater peace of mind for data security.
Full support for LOINC coding: enabling clinical results to be exchanged and consolidated, using a set of universal codes and structured names.
1+1=3: Reap the benefits of using products from 1 supplier : GLIMS 10 + CyberLab/DaVinci: data registered in one system is available in the others, giving users of each system access to greater information on the patient. The benefits include a faster and more efficient workflow, and better patient care.