A new building, a new automated laboratory, and a new GLIMS for Leiden University Medical Centre (NL)
The challenge
Enable one cross-laboratory information system for all of the laboratories.
The outcome
Following its "big bang" implementation of GLIMS, the laboratory can provide more efficient diagnostics, guarantee turnaround times, and rigorously monitor quality.
While the Leiden University Medical Centre (LUMC) laboratory used to be divided into separate units, today, activities have been centralised as the Clinical Chemistry and Laboratory Medicine (KCL) department. "You have to keep up with the times. For us that meant transforming into a single, large, automated laboratory that would enable us to deliver more efficient diagnostics," says Dr. Judith Gillis, laboratory specialist clinical chemistry focusing on total diagnostic test processes at LUMC, and one of the project leaders.
Each individual unit – Clinical Chemistry, Haematology and Blood Transfusion – had its own GLIMS laboratory information system (LIS). At the same time, other LUMC clinical laboratories, including Medical Microbiology, Clinical Pharmacy and Toxicology, Specific Haematology and Immunohematology, were also using GLIMS, but with their own system configurations. It was clear that this laboratory-specific approach was creating an obstacle to future developments. To resolve this, and open up the possibilities inherent in GLIMS, they decided to switch to a new, cross-laboratory GLIMS deployment.
Three projects in parallel
To realise their goals, the KCL department set up three simultaneous projects: one to integrate the existing departments and to redesign the diagnostic (logistical) processes; another to build a new physical central laboratory with completely new equipment in an automated lab environment; and a third to redesign the GLIMS from the ground up.
Dr. Gillis explains, "In November 2017, we went live with the new laboratory. From one of the oldest facilities in the Netherlands – in equipment, organization and IT – we have transitioned, in one go, to one of the most modern."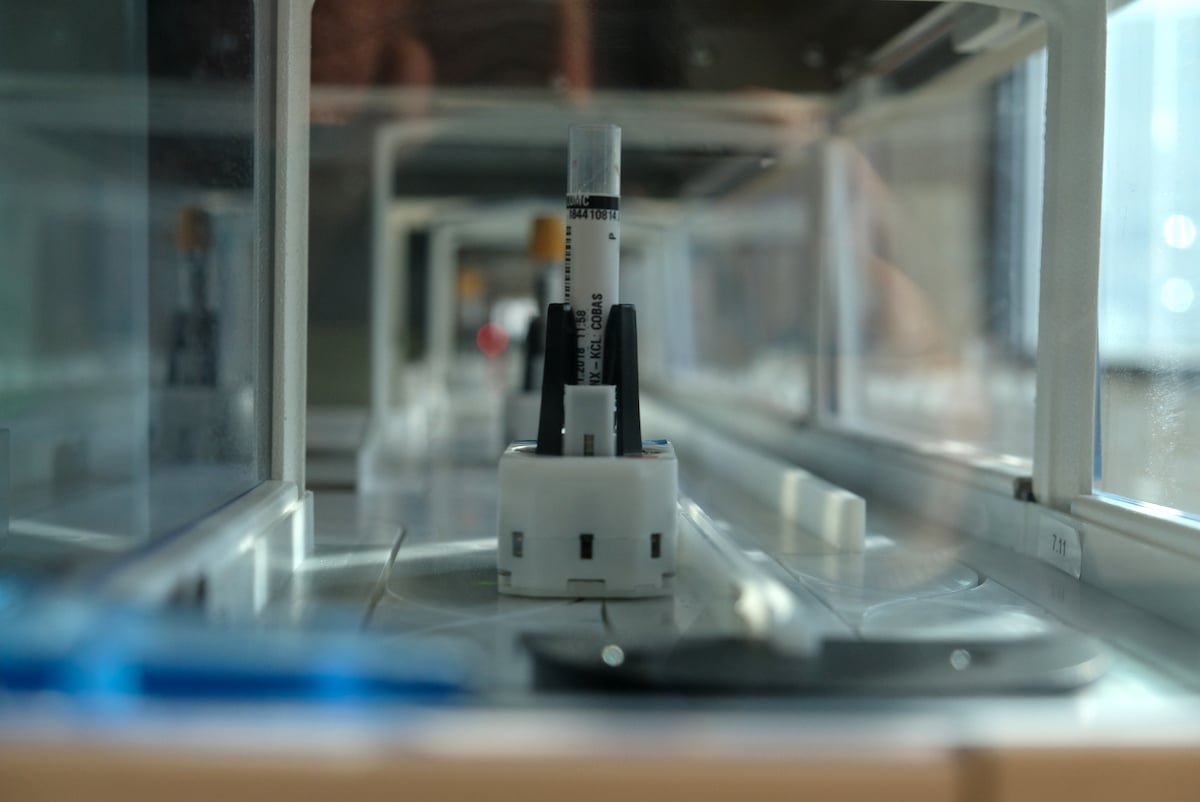 The first step to getting the project off the ground was to develop a functional description of the laboratory processes and identify clear guiding principles. "For example, we wanted good track & trace capabilities, simpler processes, guaranteed turnaround times, a reduction in the amount of blood needed for individual samples, etc. To fit everything in with the hospital's procedures and requirements, we redesigned the diagnostic process on a hospital-wide scale, from request to reporting."
All of this was then translated into one streamlined functional design, which became the starting point for LUMC's tender, in compliance with the EU public tendering rules. Given the complexity of the design, no single supplier could offer everything. Using a unique approach, the tender was designed to ensure that the suppliers would work together and dialogue with the hospital jointly.
Process simplification
"Our lab carries out millions of tests every year, which means we are always striving for process simplification and improvement. One ambition was for all incoming samples to be placed directly on the track without manual intervention," Dr. Gillis continues. "But even when that wasn't possible, we sought ways to eliminate time-consuming actions. A good example is samples transported on ice: in the old lab, we receive more than 100 of these every day. Today, ice is no longer needed for most samples, so they can be transported via the regular tube transport, without manual processing."
Additional gains were made by reducing the 23 different order forms to just three: one for blood, one for urine and one for other materials. This has made requesting tests much easier, clearer and intuitive for doctors.
GLIMS takes the driver's seat
GLIMS had to be in the driver's seat for all communication with the track's operating system (routing engine) and the analysers. Clear agreements between MIPS and track supplier Sysmex defined how the track and GLIMS would communicate. There is no direct communication between the routing engine and the analysers. "We only use middleware if it brings added value for the patient or offers functionality that GLIMS does not have," says Dr. Gillis.
"There are several reasons for managing everything from GLIMS. First of all, using one interface, regardless of analysers and devices, is more convenient and easier to learn," Dr. Gillis explains.
"Plus, we can follow samples across all the units, and the clinical laboratories that use GLIMS. We know the sample's journey: module, analyser, timestamp … and we can understand where something possibly went wrong. This new track & trace is a very powerful capability."
Big bang
"It is quite a risk to go live in a single day with a new lab that integrates a number of different labs, and with a new GLIMS to top it off. You still have to be able to provide the diagnostics for most tests within the hour. And we did quite well," says Judith Gillis.
The laboratory conducted a series of stress tests before the go-live, assessing logistics and sample processing. During the go-live on November 3, 2017, the laboratory kept 'all hands-on deck', along with 15 associates from the suppliers, including four from MIPS.
"There was an initial difficulty with order management: requesters could enter orders in the hospital information system (HIS), but couldn't print the sample labels. However, that was soon sorted," continues Dr. Gillis. "It took some time to further optimise the diagnostic process, but we were always able to make full use of the track, without significant disruption of our service."
Addressing the human side
LUMC put a lot of effort into guiding the change process and training the laboratory staff, with certain staff members mentoring their own units and employees. The staff from the traditional clinical chemistry and haematology labs were trained to work with the different analysers, allowing them to take over each other's work.
"Our main goal is to add value for the patient. We do this at the level of test interpretation, and we can now have more staff there. Our people have also been given new, value-added tasks, such as training nurses in clinical departments on point-of-care testing," describes Dr. Gillis.
Almost all the samples taken at the outpatient phlebotomy unit – which account for about 40% of what comes in to the laboratory – are processed in a fully automatic way.
Orders from this unit are activated in GLIMS, and the labels with patient identification data are printed. The blood samples are then sent to the laboratory via the Tempus tube system – without requiring packing – and automatically placed on the track according to the first-in/first out (FIFO) principle.
As soon as an order has been activated in GLIMS, it is sent to the track's routing engine. The track 'knows' that 'this material and these tests belong to this sample number'. To check that everything matches with the data sent by GLIMS, a colour photograph of the tube and cap is made. In parallel, the track outlines the route the sample will follow, taking into account the availability of the modules, analysers and carts on the track.
Serum samples are placed in a buffer to clot. The serum tubes are then uncapped on the track, and transported to the analysers. Samples intended for other units or laboratories are first divided into subsamples (if necessary), and then transported to a specific output area.
When the analysis is complete, the samples are automatically placed in the archive linked to that track. There are no manual interventions required.
Turnaround times
With this new process, many previously time- and resource-consuming manual tasks are a thing of the past. For example, laboratory staff no longer need to manually place the samples in the order of sample number or cap them: a real time savings.
"With GLIMS we have mapped our turnaround times, both for transport and for analysis. Using the Tempus tube system, transport times are only around 20 seconds per sample, saving us 15-20 minutes per sample, easily," says Dr. Gillis.
Analysis times are short, as well. "For haemoglobin, for example, 50% of the results are known within 8 minutes of receiving the sample in the lab, with 95% of the results available within 25 minutes," Dr. Gillis adds.
Standardised processes in control 
Thoroughly preparing the diagnostic process plan, and designing GLIMS accordingly, established a clear working method. Dr. Gillis describes, "We are not only working more efficiently now, but there are fewer mistakes or misplaced samples. Turnaround times are better and more predictable. Quality can be monitored more rigorously, and problems noticed faster. Staff no longer spend time looking for tubes and papers: things are much smoother in the lab."
The advantages for the patients are unmistakable, as well: results are available more quickly, with less blood drawn: only around 10 millilitres per blood sample is needed. On an annual basis, this equals 6,000 litres less blood!
Learning from a successful project
"You have to set up GLIMS in such a way that it supports the diagnostic process and laboratory work," concludes Dr. Gillis. " We let ourselves be guided by MIPS's expert advice. And we involved a large number of employees – including lab technicians and application managers – in the project.
I would recommend to anyone who starts such a project that they invest enough time into this aspect, and respect each player's knowledge and input. Today, we are reaping the benefits. In the lab, which carries out millions of tests every year, we are always striving for process simplification and improvement. Our ambition is to have an operationally excellent lab in the future, reaching a 5- or 6-Sigma quality level," concludes Dr. Gillis.
Offers a rich functionality for all types of laboratory tests.
Integrates directly with the track system. Middleware is only used if it adds value to the patient or the functionality is not available within GLIMS.
Supports the entire diagnostic process, from ordering of tests to reporting, and includes a full track & trace of samples.
Works intuitively, and can be adjusted to the laboratory's way of working. For example, buttons can be created for the activities that are performed multiple times every day.
We are not only working more efficiently now, but there are fewer mistakes or misplaced samples. Turnaround times are better and more predictable. Quality can be monitored more rigorously, and problems noticed faster.